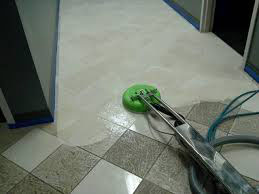 Tile is a highly prevalent material throughout most homes, especially where the kitchens and bathrooms are concerned. This is because tile is moderately priced, with a bevy of benefits that can lend appeal to a room and create longevity in the way of style and material resilience. Simply put: tile is a great material for a great price.
Tile may be a superb choice for many installations, but it's not without a need for care and maintenance. Like any other material, tile cleaning in Scottsdale, AZ is required to make sure it retains its beauty and strength—especially in environments where wear and tear is a daily cause for concern.
Too many homeowners don't understand the nuances of proper tile cleaning, however. And, to make matters worse, many off-the-shelf products only serve to perpetuate improper cleaning: they contain abrasive chemicals that only degrade tile further, rather than cleaning and protecting it.
So how exactly should you be cleaning your tile and what techniques should you be avoiding? Take a look at this quick guide, to help you get up to speed about what constitutes proper tile cleaning in Scottsdale, AZ:
What not to do
Before you learn the correct way to clean tile, it's important to identify some of the things you shouldn't do! Here's a quick rundown of what not to do when it comes to tile cleaning:
Do not use any sort of ammonia or bleach! This can destroy the grouting between your tiles and cause the tiles themselves to compromise over time.
Do not use abrasive cleaning supplies such as steel wool. This will tarnish your tile and leave its surface compromised.
Do not use any cleaners that are colored. Tile has microscopic pores that can absorb this coloring, eventually tainting the color of your tile over time.
As you can see, the above tips render many store-bought products obsolete—they'll either contain bleaches or colorings that can ultimately ruin your investment in tile.
How to clean tile properly
Cleaning your tile appropriately is a matter of using the right materials and taking the right approach:
Be sure to clean your tile using non-abrasive formulas specifically made for tile and grout.
Be sure to periodically seal grout against contaminants and to protect the water barrier underneath your tile. A waterproof sealer can also be aptly applied to your tile as well, to prevent intrusive moisture.
Clean your tile at least once a week, with a more thorough cleaning done bi-weekly or one a month.
A final tip is to test your cleaning methods on a single tile before tackling the entire surface—this will give you an idea of what level of cleanliness you can expect, as well as whether or not there are any issues you should observe in using a specific cleaning compound.
Now, if you don't want to take chances with your tile flooring, the best option is to call a professional for regular tile floor cleaning and maintenance. Not only will a professional have the knowledge required to clean your tile the right way, they'll also be able to make recommendations and observations as to any other services that might benefit your tile, such as repairs or when the appropriate time to seal it may be.