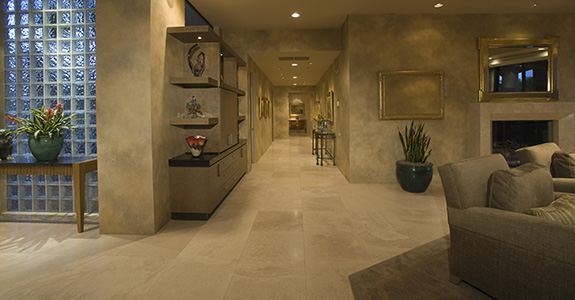 Natural Stone Cleaning
Stone is a top choice for luxury, sophistication and sustainability when it comes to picking out materials for your home or business. Natural stones, such as travertine, marble and granite needs special care and maintenance to retain its stunning look.  You will need a professional stone sealing company in Scottsdale, AZ that you can trust to take the necessary care in order to avoid damaging it.
Without routine care for your natural stone surfaces, however, they can succumb to the normal wear and aging that comes with everyday life. They'll begin to lose their high-end appeal, can develop blemishes that detract from their natural beauty and can even experience deep-rooted damages that compromise their integrity. To combat these things and more AZ Floor King offers a wide variety of services as a floor and countertop cleaner in Scottsdale, AZ, including: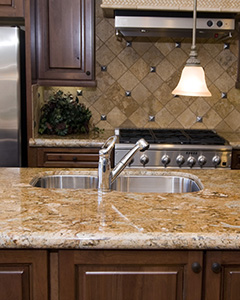 Stone cleaning: We're pleased to offer expert marble, granite and travertine cleaning in Scottsdale, AZ. We will  remove the dirt, grime, and soils to restore a clean, like new appearance to your natural stone flooring.
Stone honing: Many natural stone floors feature a "honed" or "satin" finish.  AZ Floor King's experts can keep this unique finish looking its best over time by removing blemishes and abrasions and restoring the alluring appeal of an original honed aesthetic.
Stone polishing: Travertine, limestone, and marble 

floors create beauty and elegance for any home; however, natural wear and tear can make your stone floors look dual and worn.  Our 

premium stone polishing techniques will create or restore that high gloss finish.
Stone sealing:  We can seal all types of natural stone flooring such as: travertine, limestone, granite, and marble. Sealing helps the stone resist spills and  prevents stains and discoloration.  Want to bring your old or worn-out floors back to life? You can trust AZ Floor King to provide amazing results and dramatically enhance the appearance of your living space.
If you want to restore the natural beauty or renew the surfaces of your natural stone flooring and countertops, trust the experts at AZ Floor King in Scottsdale, AZ and surrounding areas.
Granite Shield Protects and Restores
Granite is one of the most durable and resilient materials out there, which is why it's the primary choice for kitchen and bathroom countertops, where abuse is a daily occurrence. But even the superb finish of this natural stone can only hold up for so long, which is why it's recommended to invest in a Granite Shield treatment.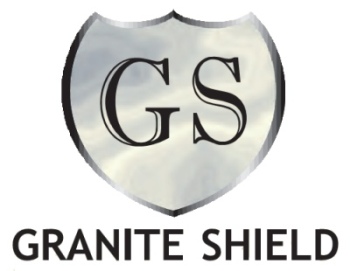 As an exclusive dealer of Granite Shield, AZ Floor King is intimately familiar with the benefits of this product and the exemplary effects it has in preventing your granite and marble from staining. Consult with us today to learn more and we'll happily break down exactly what makes Granite Shield such a sound investment for granite and marble surfaces! For more information about any of the services we offer or our techniques in regards to cleaning, restoring and polishing your natural stone, please contact us today by calling 480-281-2046.